A social/cultural entrepreneur and educator committed to "tikkun olam", religious pluralism, inter-cultural dialogue, bridging gaps in Israeli society, and engaging Israeli and Diaspora Jews with each other, USA-born Deborah (Debbie) Goldman Golan made aliyah in 1972 and moved to Yeroham in 1987.
She is co-founder & president of Atid Bamidbar, that connects Israelis and Jews with each other, the environment, and Jewish and Israeli culture in creative ways. She has degrees from UI Chicago (BA), Spertus College of Judaica (BHL, Teacher's Certification), and Touro College (MA). Worked in research, writing, translation, editing, group facilitation, teaching and curriculum development on Jews of Asia and Africa and on Jewish values for the State Secular school system (Schoen Institute, Gesher, 1979-1986).
Served as Projects Coordinator for the Negev Center for Regional Development, Ben-Gurion University of the Negev (1993-2000). Co-founder of initiatives in Yeroham and the Negev in the areas of communal documentation ("Teudat Zehut" archives and project), environment (Environmental Action Group, Negev Bar-Kayyama, "Tisch Svivati", Yeroham Sustainability Forum), Dance-Midrash & Piyut programs, Jewish-Bedouin frameworks ("Neighbors" Group, Incubator for Bedouin-Jewish Initiatives, "Good Neighbors Network in the Negev"), and distributional justice ("Residents' Forum for Distributional Justice", national conferences).
Member, Miami-Yeroham Partnership2Gether Steering Committee (2007-2016). Co-founder of Israeli Batei Midrash Network and Negev Forum for Israeli Judaism. Lit a torch on Israel Independence Day (1988); recipient of New Israel Fund Fellowship for Leadership in Religious Pluralism (1987), Avi Chai Study-Sabbatical (2000), Liebhaber Prize for Encouraging Religious Pluralism & Cultural Openness in Israel (2006), and Torah Culture Department Citation of Excellence (2009).
Married to David Golan, mother of 3, grandmother of 5.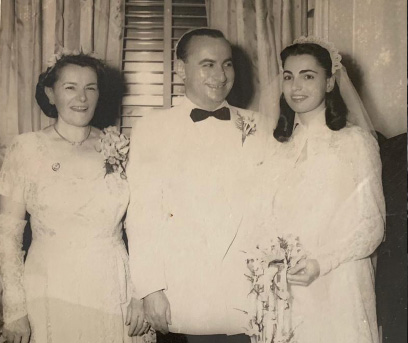 Molly bahn on left at wedding of my parents, rabbi martin goldman and celia bahn, boston ma., June 29, 1952
Back to Honorees